Why we fight!
I'm a little angry right now, so excuse me whilest I vent.
The 'Religion of Peace' has struck again. Further showing the infinite compassion typical of the loving compassionate religion which is Islam the Islamofascists have beheaded American Paul Johnson.


Click here, but be warned a graphic image.





RIYADH, Saudi Arabia — Gruesome photographs of the beheading of Paul M. Johnson Jr. (search), the American contractor taken hostage by terrorists last weekend, were posted along with news of his killing on an Al Qaeda (search) Web site Friday.

The Arab satellite network Al-Arabiya broke the news of the execution, and Al Qaeda also reported on its Web site that the members who captured the Lockheed Martin (search) employee had killed him.

The Al Qaeda kidnappers had threatened to behead Johnson, a longtime resident of Saudi Arabia (search), by Friday if certain terrorist prisoners were not released by Saudi authorities.

And now for the people who think we should try to reason with these savages:
How can you reason with people like this? When a savage rabid animal is about to bite your head off, or kill you family, do you try to pet it an make nice? NO!! You blow its fucking head off!
I say a thousand eyes for an eye. They will rue the day. We must win.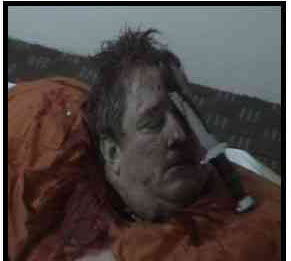 Posted by psugrad98 at June 18, 2004 03:12 PM